RESEARCH
The R/V Discovery is a 65′ Stapleton, designed and well-suited for coastal research and dive operations ranging from day trips to extended cruises. The R/V Discovery's captains and crew have extensive experience in coastal research and dive operations working primarily on the East Coast.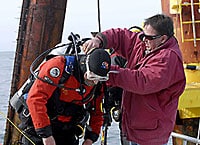 With the R/V Discovery's modern navigation equipment, multiple lifting davits, and spacious deck, she has become a favorite amongst the commercial marine work force. Along with her deck attributes she has 3 comfortable staterooms and large salon for lab space and a full galley. With the precise positioning capabilities of the R/V Discovery, it is most advantageous for diving and research when deploying ROVs, AUVs, buoys, cable, and communication profiling.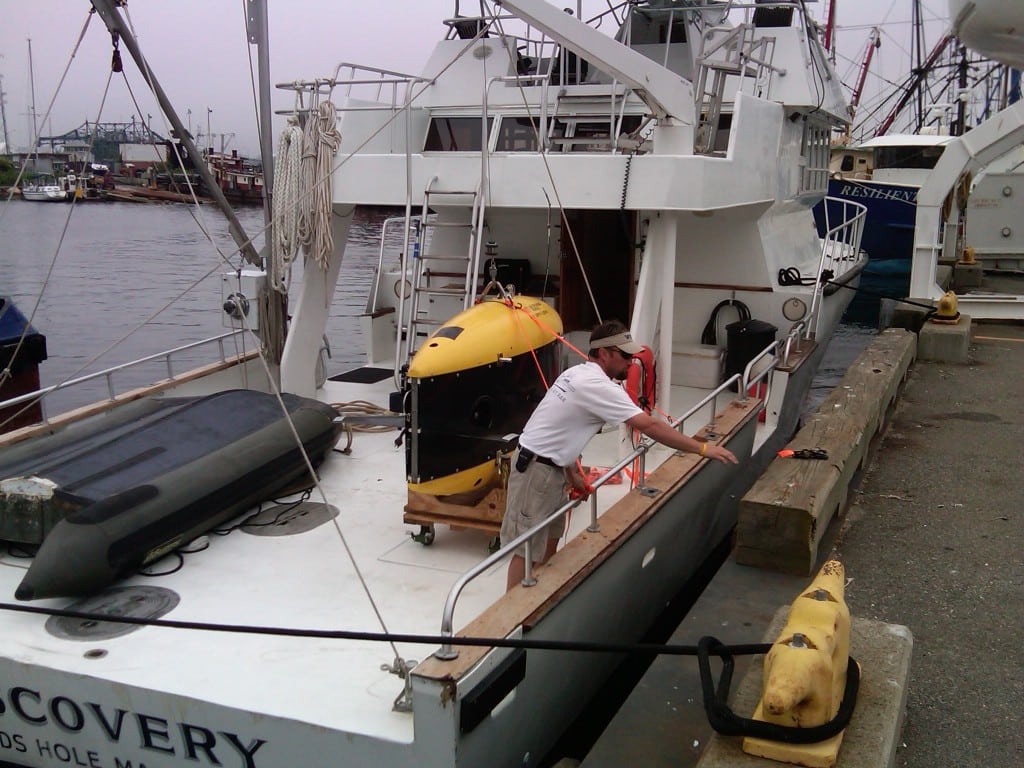 Specifications
Fiberglass hull
Twin screw
Diesel-power
Builder: Stapleton Boat Yard, Homestead, Florida
Launch date: August 1982
Endorsements: Coastwise, Fishery, Registry, Recreation
Accommodations: 6 berths
Crew: 2-3, depending on mission
Endurance: 5-7 days
Electronics
1 Raymarine HSB2 4kw color radar
1 Raymarine L760 color sounder (50/200k)
2 Icom VHF
1 Raymarine WAAS GPS
4 Motorola 3 watt handheld radios
Loud hailer system in pilot house
Simrad Robertson AP-21 AutoPilot
RayTech (Raymarine) integrated navigation software package integrates weather reports with vector and raster charts, radar overlays, and depth sounding on PC
Automatic Identification System (AIS)
Principal Characteristics
Length, molded: 62′
Length, LOA: 65′
Beam, molded: 19′-0″
Draft, amidships: 4′-0″
Fuel capacity (approx.): 2800 gallons
Maximum speed (calculated): 10 knots
Maximum height (approx.): 34′
Minimum height (antennas low): 30′-0″
Minimum speed: 2 knots
Gross regulatory tonnage: 77
Fresh water capacity: 500 gallons
Machinery
Main engines: 2 Detroit Diesel
Bow thruster: Vetus BOW 22024, 15 HP, 488 lb/p thrust coupled to separate 24VDC supply (147 HP @ 2150 RPM) 12″ reversible prop.
Isuzu 12 kW 110-220 VAC
HIAB 070 AW knuckle Boom Crane 4,410 Lbs @ 11'10" / 2,200 Lbs @ 22'8″
8,000 lb deck winch
Equipment
QLHD of 1,000 lbs.
Starboard: Quick Lift hydraulic davit 8′ reach with heavy duty winch with 50′ of ¼" wire. Safe Working Load (SWL) of 1,000 lbs., Working capacity to launch and recover an R.I.B./R.O.V. 1000 lbs.
Port: Goose Neck Davit with captsan 500 lb. capacity, 10′ reach
Communications: Cellular phone, satellite voice and data transmission at 64 kbs, SSB, VHF, computer networked with shore-side internet connectivity, 802.11 @ 10 Mb/s
13′ R.I.B. with 15hp OB
Science Capability
Science mission payload: approx. 6 tons.
Science vans up to 16′ in length can be accommodated
Data transmission and storage to be accommodated
Interior of vessel is air conditioned approx. 1100 sq.ft.
17′ x 25′ open aft deck
Work deck (01 Deck) is approx. 250 sq.ft. Open 476 sq.ft. total
Upper deck (02 Deck) is approx. 100 sq.ft.
Lab area (Salon on O2)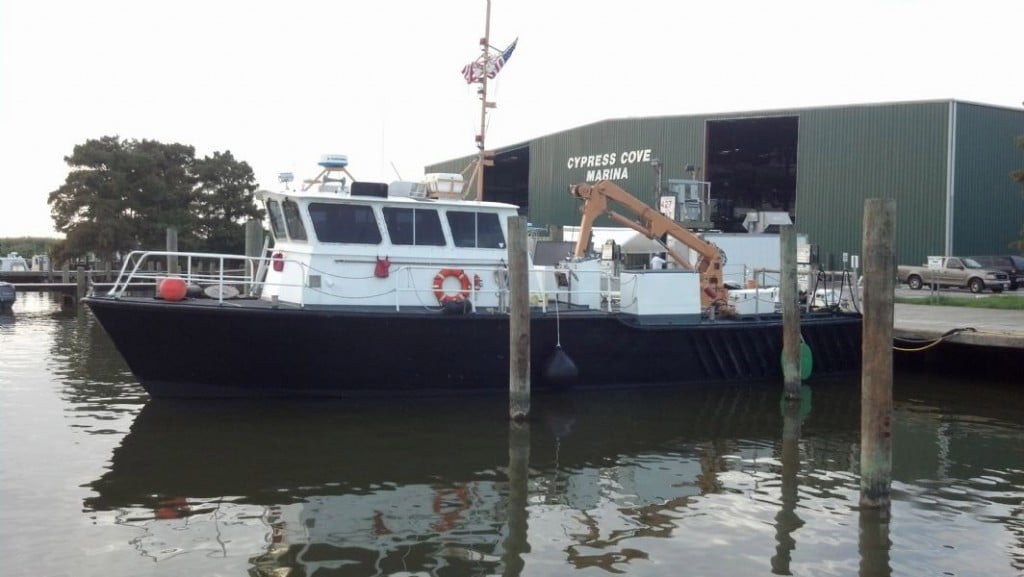 This all aluminum vessel was refitted in 2011. She has a Hydraulic deck crane which has a dead lift capacity of 3600lbs over the stern and 1600lbs over the side. Two side deck winches rated at 1800lbs each. She equipped with 600ft of 1″ double braid nylon tow line as well as 300′ of 3″ tow line. She is fully mission capable.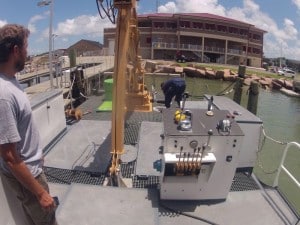 For full information and specs please give us a call. "A" Class Boat Hull Length 55'00" LOA 58'4″ (w/rub rails) Hull Beam 16 1 1/4″ Beam Overall 16′ 9″ Freeboard Bow 5'10" Amidship 5'0″ Aft 4'9″ Draft 5'2″ Highest Points Fixed 14'7″ Unfixed 25'0″ Engines Twin Detroit M12V-71-TI Rated HP 540 BHP at 2300 RPM Fuel Capacity 100% 960 gallons 95% 912 gallons Generator 21.5 KW, Single Phase, 120 VAC, 60hz Unit operated at 1800 RPM Displacement 63,900 LBS Potable Water 240 Gallons Sewage 35 Grey Water 110 Operating Conditions Crew Capacity 4 Maximum Passengers 45 Maximum Seas (Transiting) 6′ (servicing aids) 3′ Endurance ( Days) 4 Top RPM and Speed 2300RPM 21 kts Cruising RPM 1400RPM 12kts Towing Capacity (Displacement Tons) 50 displacement tons Ice Breaking Capability 1″ Cargo Capacity 4000lbs Maximum Hoisting Capacity (Bouy,safe working load over stern) 3600lbs Max Sea State.
Specifications
Fuel Type: Diesel
Vessel Type: Aluminum
LOA: 55′ 0″
Beam: 16′ 9″
Draft: 5′ 2″
Capacity: 6
Voltage: 24 Amp
Eng Mfr: Detroit
Eng Model: 12v71TI
Eng HP: 540
Eng Num: 2
Eng HP Tot: 1020
Generator: Yes
Trailer: No
Electronics
Furuno Navnet, Radar, GPS, Bottom Machine Icom VHF Radio