Side Scan Sonar & Mini ROV
Side Scan Sonar
Side Scan Sonar services are available using a state-of-the-art Marine Sonics Side Scan System. We can cover large areas fast using a 150 kHz tow fish, approximately 1000 feet per swath, or identify items as small as 6 inches using a 600 kHz tow fish. With over 300 meters of tow cable, we are able to scan areas as deep as 600 feet.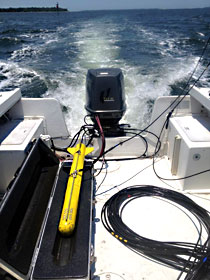 Side Scan Sonar has been used in the following applications:
Insurance Investigation
Location of old growth timber
Sunken object identification
Body Recovery
Bridge Piling Inspection
Hydrographic Surveys
Mine Counter Measures
Mini ROV
The VideoRay Pro 4 Mini ROV is the culmination of more than a decade of ROV design and development. Building off the success of the VideoRay Pro 3 model, the Pro 4 incorporates the latest in small ROV design and technology making it the most advanced, capable, and versatile small ROV on the market today. Completely computer driven by a sleek, intuitive, and powerful new software platform called VideoRay Cockpit, the Pro 4 is more advanced than anything else offered in its class.
With the Pro 4 ROV hardware in position, incorporating new features such as vehicle autonomous control, the latest imaging sonar and positioning hardware and software, or a variety of other sensors and tools developed around the size and capability of the Pro 4 couldn't be easier. Following VideoRay's proven ideals of making our ROV systems and accessories "plug and play," capabilities can be added or subtracted with either a simple software update or a quick hardware add-on in the field—all without the system being sent back to the factory.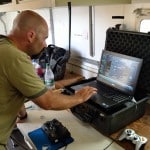 The Pro 4 has a host of advanced internal features that position it above other vehicles in its class such as a 3D tilt compensated compass, Accelerometer, MEMS Gyro, a leak alarm, internal temperature gauge, and an operating volt meter. These features are designed to make the pilot's life easier and give advance warning in the case of an issue with the vehicle.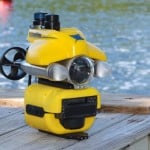 Mini ROV Specifications
Submersible dimensions: 37.5, 28.9, 22.3 cm (14.75, 11.4, 8.75 in)
Submersible weight: 6.1 kg (13.5 lb) with Full Ballast Set
Submersible thrust to vehicle weight ratio: speed 2 : 1 / 4.2 knots
Depth rating: 305 m (1,000 ft)
Remus 100

REMUS – Remote Environmental Measuring UnitS 100 is a compact, light-weight, Autonomous Underwater Vehicle – AUV designed for operation in coastal environments up to 100 meters in depth.
Adaptable and reliable The REMUS 100 AUV can be configured to include a wide variety of standard and / or customer specified sensors and system options to meet your unique autonomous mission requirements. Over the past several years, the REMUS 100 AUV has become the cornerstone of the coastal AUV market, with thousands of missions, and tens of thousands of mission hours to its credit. No other AUV system comes close to rivalling REMUS' proven track record for system quality and dependability. Capabilities The capabilities of the REMUS 100 make it ideally suitable for marine research, defence, hydrographic and offshore/energy markets. The vehicle is small enough to be carried by two people, yet contains enough sophisticated sensor, navigation, and power resources to enable it to perform intricate sonar and oceanographic surveys over large areas.
Here you can create the content that will be used within the module.
FEATURES
COMPACT SIZE & WEIGHT – The compact size of the REMUS 100 allows for economical overnight shipping and two-man deployment and operation capability. The REMUS 100 also eliminates the need for larger vessels and costly special handling equipment.
PROVEN RELIABILITY – The REMUS 100 is the only compact AUV to be selected by the U.S. Navy Fleet for their mine counter measure operations. The system boasts more than ten years of continuous product development and thousands of hours of field operations.
EASE OF OPERATION – An intuitive Vehicle Interface Program (VIP) allows anyone to become an AUV operator with just a few days of training.
POWERFUL & VERSATILE – The REMUS 100 contains a full suite of standard sensors, with new sensors being integrated on a continuous basis.
Remus 600

REMUS 600 – the most versatile member of Hydroid's growing family of Autonomous Underwater Vehicles – AUVs!
The REMUS 600 AUV was designed through funding from the Office of Naval Research to support the Navy's growing need for operations requiring extended endurance, increased payload capacity, and greater operating depth. The REMUS 600 AUV boasts the same proven software and electronic subsystems found in our highly successful REMUS 100 AUV, with a depth rating and increased capabilities that take autonomous operations to the next level.
FEATURES
GO DEEPER – The REMUS 600 has been designed to operate to depths of 600 meters, allowing for greatly increased operational scope. The highly versatile system can also be configured for 1500 meter operations.
GO FURTHER – The REMUS 600 delivers unprecedented endurance, with mission duration capability of up to 24 hours. Upon mission completion, simply recharge the internal battery, or swap out the battery section. (Endurance is subject to speed and sensor configuration).
FULLY MODULAR – The REMUS 600 has been designed with modularity in mind. The vehicle can be easily reconfigured for a wide variety of customer configured payloads. The vehicle is comprised of a series of hull sections that are quickly separated for vehicle reconfiguration, maintenance, and/or shipping.
INCREASED PAYLOAD – The REMUS 600 has been designed to be an autonomous workhorse. Its increased size and energy capacity enable it to carry large, power-hungry payloads to meet your increasing mission demands.
EASE OF OPERATION – The REMUS 600 incorporates the same proven Vehicle Interface Program (VIP) used in the complete family of REMUS vehicles. The highly refined VIP makes vehicle maintenance, checkout, mission planning, and data analysis fast and easy. Windows operation, quick look indicators, quality control checks, and a sophisticated data export capability all add to the user friendly nature of this software package.
PROVEN REMUS TECHNOLOGY – The REMUS 600 is based on the same leading edge technology that has brought the REMUS 100 to the forefront of autonomous operations.